NOTE: I don't own Anki nor did I develop it — all rights to Anki software belong to Damien Elmes and his team. My goal here is to share my experience if you're interested in integrating Anki into your study strategy.
Hey there, welcome!
I made this guide so you know exactly where to start in your study system optimization journey.
Fair warning, though…
These articles aren't your typical "top 10 tips" thin posts that you'll see on Google. ALL of them are based on my own experience as well as the hundreds of students I've helped become better learners.
"I have an exam in 2 weeks and I need 84 in order to pass…"
If you want to learn how to cram the most effective way possible, the best place to start is in my free guide, 9 Steps to Effective Cramming with Anki — which you can read here.
It's 9-step guide that will help you score decent on your exam if you have one in the next 2 weeks.
Don't expect too much, though. After all, cramming is supposed to be a last resort.
So, if you have an upcoming deadline and you want to retain a lot in a short period of time, then make sure you read the guide first before you go anywhere near the other free stuff below.
Read the Free Anki Fundamentals Series
Learn how to use Anki in the most efficient way with my free article series, Anki Fundamentals.
Unlike what you may hear online, Anki is certainly NOT magic.
BUT, it's incredibly helpful in automating retrieval a crucial one-third of your study system. (i.e. in the Encoding – Storage – Retrieval stages of memory)
Just like you don't need to learn all features of your computer to use it for schoolwork…
You also don't need to learn Anki's every damn feature to use it effectively for remembering what you learn.
Just the basics are enough to make it do its damn job in your study system.
If you want the "shortcut" approach: just follow the Lesson 1 closely and then move on to Step 2 of this roadmap.
Otherwise, you can navigate through these links — which are also available in every post:
Not sure how to properly structure your flashcards? Get a PDF copy of 17 Flashcard Do's And Don'ts
This quick reference will show you 17 flashcard examples and anti-examples so you can create memorable Anki flashcards you can answer in under 7 seconds.
Are you overwhelmed by the amount of cards you need to review in Anki?
If you are, then you've probably come to the conclusion that "Anki just takes too much time" — in one way or another:
"I'm spending too much time creating my flashcards, and I feel even more behind of what I have to study"
"Making flash cards in Anki is a very cumbersome process."
"I can't keep up with my reviews"
"Making flashcards take me a really long time"
"Reviews take too long"
"I'm making too many flashcards"
And you've probably tried a couple of things to use Anki more efficiently…but ended up failing.
It doesn't have to be that way.
You CAN use Anki efficiently. But only if you think about it the right way, and use it in the context of a system built on proven learning principles.
Learn more in the free series, Using Anki Efficiently. You're going to learn the most important lessons I've gained from manually creating 4000+ flashcards…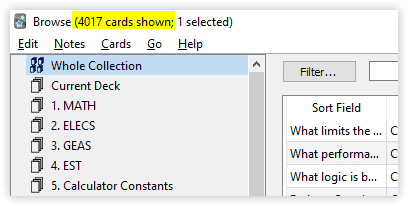 …so that you can use Anki more efficiently, remember what you learn without losing the big picture of concepts, and ultimately, be able to comprehend more complex material in less time.
In other words, you'll learn how you can become an efficient Anki learner. (HINT: It's not always about Anki)
I originally sent the early version of this only to 126 selected newsletter subscribers, (back in 2020) and I honestly thought they weren't going to like it that much. It was kind of a litmus test, so to speak.
Know what happened? I was shocked by how "rare" this seemed to them.
If you feel like it's taking you forever to use Anki for studying, then this series is for you. Here are some of the things you'll discover:
Why "using Anki faster" is making you learn slower
The real underlying reasons why using Anki takes you a lot of time to use
What systems experts have to teach us about "combining the best study tips" (and why that approach doesn't work)
How the specific way you're optimizing Anki for efficiency makes you spend even MORE time in the long run
…and a lot more — with action steps 🙂
For Stressed-Out Students Who Want to Study More Effectively
Have you ever tried getting a high score in your exams, getting "serious" in your studies, becoming a top student, or getting into a good university…
But you're just not able to start studying consistently?
Does learning new concepts the first time around take you forever?
Does everything you read just "fade away like smoke in the wind" after a few days no matter how much you read, take notes, or listen to lecture recordings?
If you answered "yes" to any of these, then you're probably frustrated by how much your results doesn't reflect the amount of hard work you're putting in.
And it's DEMOTIVATING!!
Who WOULDN'T lose their drive when you can study for 7 hours and still fail your tests, right??!?!
But what if I told you that you could:
Start building unbreakable study habits
Absorb new concepts quickly — even though you're just seeing it the first time from a textbook
Retain LOTS of information for long periods
…without studying like a damn hermit??
Well, turns out you could!
It's possible with a system based on the 3 core processes of memory — encoding-storage-retrieval. 1
So long as your study system works with these 3 processes, you CAN start working with your memory.
You'll absorb new concepts quickly, retain LOTS of information for long periods, and because of the great results…you'll build unbreakable study habits.
In my course, Simple Study System, you'll discover a simple system based on the 3 core processes of memory that will make you absorb new concepts quickly, retain LOTS of information for long periods, and build unbreakable study habits.
Forget about random lists of study tactics and making notebooks that look like art projects.
This is probably the most structured training you'll ever get on studying effectively.
Surprise your classmates as you get on top of your class without even looking like you study.
Get a full scholarship after passing those entrance exam.
Become "dream job material" as soon as you graduate.
Make your parents proud of your grades.
Learn more by clicking the button down below.
Choose Your Own Adventure!
If you want to read random articles here at the blog, you can check them out sorted from latest to oldest: Click here to see latest articles.
At the resource page, you'll find every no BS resource I've found on becoming a better Anki learner.
Footnotes
McDermott, K. B., & Roediger III, H. L. (2022). Memory (Encoding, Storage, Retrieval). Noba. https://nobaproject.com/modules/memory-encoding-storage-retrieval